Papanasini temple wayanad
Hidden in dense woods, the Papanasini temple Wayanad offers its viewers and devotees a beautiful imagery of Sunrise from the east. Refreshing view of nature adds to the temple's beauty. The Brahmagiri ranges display their shadows of green on the north.  Surrounded by the green Karimala and Narinirangimala on the west and south they add to the mystic beauty of the temple.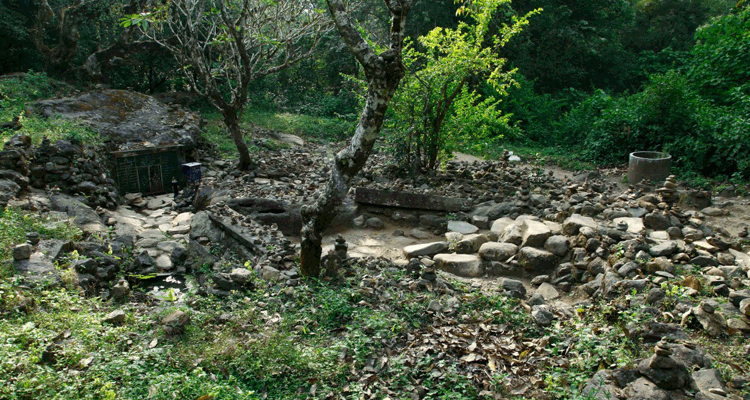 Papanasini is the mountain stream starting from the heart of Brahmagiri and is about one kilometre away from the Thirunelli temple. On the way to the Thirunelli temple from Papanasini tourists can find a small bridge leading to a small Gundika temple dedicated to Lord Shiva. As old as the Vishnu temple, the Shiva temple is believed to be a delight for archaeologists and historians. The  vast spread of sculptures make for an interesting study of these sculpture enthusiasts and hold a strong religious foothold for the devotees.
Visitors and pilgrims are visiting the Thirunelli temple often take a dip in the Papanasini stream. The spring and the river near the temple are believed to wash away your sins especially during Amavasya.  The stream water leads to the pond too and is where devotees perform their ancestral and last rites making it an important and significant pond of the Thirunelli temple.
The Papanasini  stream leads to the confluence of the Ganges and Saraswathy that flow alongside of shrubs, flowers and medicinal herbs. The surrounding region does not have a borewell hence making it difficult for travellers who depend on the river water for their drinking needs.
Papanasini river stream attracts several pilgrims primarily who come to lay their offerings and prayers in the Thirunelli temple. The temple and the Papnasini stream hold significant importance and make for an important pilgrims destination in Wayanad tour package.