Chembra Peak wayanad
Chembra Peak Wayanad is located near the town of Meppady and around 8 km south of Kalpetta is a part of the Wayanad hill ranges in Western Ghats, neighboring the Nilgiri Hills in Tamilnadu and Vellarimala in Kozhikode district in Kerala. Chembra Peak is the tallest peak in Wayanad at an incredible altitude of 2100 meters above sea level. This peak is particularly accepted with both mountain climbers and trekkers alike. There are even short-term camps that are set up atop the mountain so that anyone that has successfully climbed the peak can choose to easily stay there for a sometime. The climb is somewhat extreme, but the recompense on the top is worth the sweat! The panoramic views of the Wayanad from the tip of Chembra Peak are rather magnificent, and the beautiful mountain lake at the top is extraordinary as well.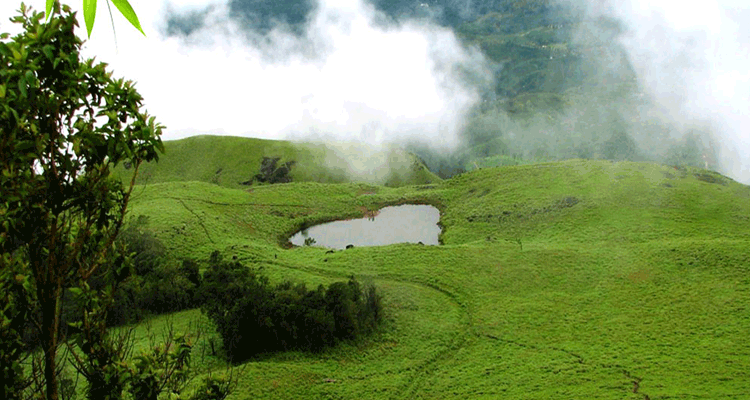 Chembra Peak is a one of the trekker's paradise with rocks, meadows, forests and hills kissing the horizon stand at the west part of Kalpetta. You can start to climb in the early morning and come back by evening with a rejuvenated mind. On the top, there is a lake with crystal clear water. Enjoy the breath taking scenic beauty of Wayanad from the peak.
Chembra Peak is easy to get by foot from Meppady. Wayanad District Tourism Promotion Council provides guides and trekking equipments on hire charges to trekkers and tourists. Authorization from the forest office in Meppady is required for trekking up to Chembra Peak. A lake with heart shape on the way to the top of the Chembra peak is a major tourist attraction. The lake is believed to have never dried up. You can locate this heart shape lake halfway to the peak as a symbol of love by the peak to the climbers.
Tourists or the trekkers can reach the forest office, from where a pass has to be acquired to trek the mountain. Availing a trained guide is always appreciated for the new comers to explore the wonder of nature. The ticket is priced at Rs.500 for unto 10 people. The trek starts form the watch tower which is around 5kms away from the forest office. The drive to the watch tower takes you through gorgeous undulating tea gardens. The gardens themselves are a delight to the eye. The trek to the top takes more than 3 hours, and one can witness almost the whole of parts of Wayanad and Malappuram, Kozhikode in Kerala and Nilgiri districts in Tamilnadu.