kuruwadweep Wayanad
Kuruvadweep Wayanad (Kuruva Island) is a 950-acre (3.8 km2) around 17 km to the east of Mananthavady protected river situated on the tributaries of the river Kabini and is a fabulous picnic spot  in the Wayanad district, Kerala. This island of dense and evergreen forest is uninhabited and hence a home to rare kinds of flora and fauna: uncommon species of birds, orchids and herbs . Its peaceful silence and wide expanse of the evergreen forest leaves you astonishing. This island is isolated but an array of uncommon species of birds, herbs and orchids are the royal family of Kuruva Island.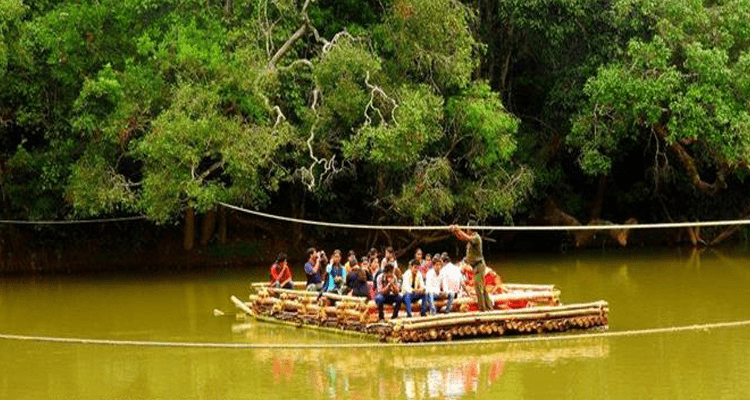 The Kuruva Island is the fertile land of rich greenery between the two tributaries of Kabini river. Its 950 acres of area is home to various species of rare birds, orchids, butterflies and herbs. Facilities for cycling to reach the place are available. But if you prefer to be a pedestrian in reaching the place walk through the forest. Kabini River flowing aside can refresh you well. This place is a great attraction for movie makers also.
Kuruva Island is very far from the turbulence of city life making it an exotic place for visitors to relax and enjoy the beauty of the nature. It is closed during monsoon (June to September)

Kuruva Island is an island of thick and evergreen forest is abandoned and hence a home to rare kinds of flora and fauna: uncommon species of birds, orchids and herbs namely. Its unique environmental characteristics make it a place where not only the leaves but also silence is evergreen being away from cities and thus it has become a place of attraction. Most recently, it has been identified as the most visited place in the district by tourists drawn from all over the globe.

The island surrounded by streams and river can be accessed using rafts or fiber boats run by Kerala Tourism Department. Entrance to the island is restricted and monitored by Vana Samrakshana Samiti, a Dept of Forest of Kerala initiative to protect forest, and at times of heavy rain and frequency of elephants and other animals to the island a pass obtained prior to the visit of spot from Dept of Forest is mandatory.